Coventry City fans tie sky blue ribbons in bid to keep club in city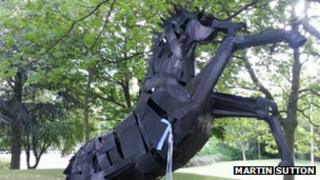 Coventry City fans have tied "hundreds" of sky blue ribbons around the city, as part of their campaign to keep the club in Coventry.
The club has agreed a groundshare with Northampton Town for three seasons amid a dispute with the owners of its current home the Ricoh Arena.
About 50 people tied the ribbons on to lamp-posts and landmarks including the Lady Godiva statue in Broadgate.
The Tie A Sky Blue Ribbon campaign was organised by the Sky Blue Trust.
Coventry City has been involved in a rent dispute with Ricoh owners Arena Coventry Ltd for more than a year.
It was announced at the beginning of July the League One club would play home games at Northampton's Sixfields Stadium, 34 miles away.
Jan Mokrzycki from the Sky Blue Trust said volunteers had spent Sunday night putting up "hundreds of ribbons"
"We're saying to businesses leave the ribbons up and please support us because it could be detrimental to your business if Coventry City leave Coventry," he said.
"What we want now is for individuals to join in and put them on their houses, their cars and their businesses and keep those ribbons up until the team come back home to Coventry."
Coventry City revealed on Friday it hoped to finalise a deal to build a new permanent home "within six miles of the city centre" in eight weeks.
The club has not given the exact location of where it is hoping to build its new ground and said it had entered talks on a second site.