Coventry Sports Centre splash pool still shut after boy hurt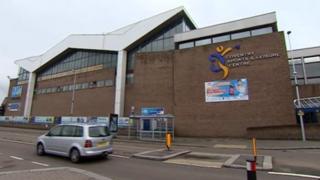 A swimming pool remains closed after a teenage boy suffered a serious head injury and had to be pulled out of the water by a lifeguard.
Officials at Coventry Sports Centre are carrying out an official investigation after the incident in the splash pool on Wednesday afternoon.
Police said the boy, who has not been named, was recovering in hospital and was now sitting up and talking.
The centre's main swimming pool is now open but the splash pool remains shut.
On Wednesday Richard Parker, the centre's general manager, said it was working with the emergency services over the issue.