Shottery: Bid to stop homes development fails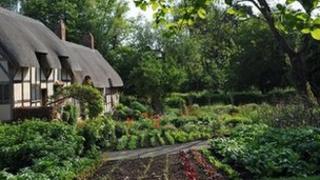 A bid to stop up to 800 homes being built near one of Stratford-upon-Avon's most popular tourist attractions has failed.
The district council's appeal against the development in Shottery has been turned down by the High Court.
New homes, a primary school and a health centre could all be built close to Anne Hathaway's cottage under the proposals.
Some of the land is owned by the Shakespeare Birthplace Trust.
They will now be asked to sell it to developers, Bloor Homes and Hallam Land Management.
'Bitterly disappointing'
Councillor Chris Saint, council leader, said: "This is a sad day for Stratford and localism, and a bitterly disappointing decision.
"I am stunned that the aspirations of local people have been so roundly dismissed.
"We have proved before that there are ample sites available in the district.
"Land close to Ann Hathaway's cottage was never our choice.
"We have gone as far as we can to try and stop this. Sadly, we must abide by the ruling."
A spokesman for Save Shottery, the campaign group set up by local residents, said: "We want the Shakespeare Birthplace Trust to stop the development by refusing to sell the land it owns."
A statement issued by Shakespeare's Birthplace Trust said: "We have a legal and moral duty to act in the best interests of the Shakespeare Birthplace Trust and the five Shakespeare Houses & Gardens in our care - in this case, Anne Hathaway's Cottage in particular.
"We now intend to hold a meeting as soon as possible to present all of the expert evidence and information we have gathered to the full board of Trustees."
Bloor Homes and Hallam Land Development were not immediately available for comment.