Coventry city president Joe Elliot resigns over Northampton ground share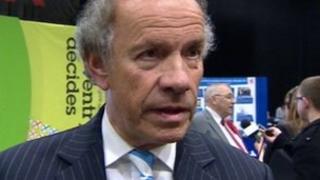 A life president of Coventry City football club has resigned in protest at plans for the team to play its home games in Northampton.
Joe Elliot said he "couldn't bear the thought of the club leaving the city".
The Football League said it had "reluctantly accepted" an application from the club's owners, Otium to leave the Ricoh Arena to play at Sixfields.
The West Midlands MEP Nikki Sinclaire will meet Football League officials later to discuss the issue.
Mr Elliot was chairman of the Sky Blues when current owners Sisu took over the club in 2007.
He left the board of CCFC Ltd in December 2010.
He said: "To think that our football club isn't going to be representing the city of Coventry is terrible.
"It's just tragic, we're going to lose a generation of support....young fans are faced with the fact they can't afford the time or money to go to Northampton."
'Fans being ignored'
MEP Nikki Sinclaire said she would drive to the meeting in London later with her advertising van which displays the message "Keep CCFC in Coventry".
She has also started an online petition.
Ms Sinclaire said: "The Football League has a motto that says real football for real fans but I feel supporters' views are being ignored.
"We want answers about the ownership of the club and clarification of the Football League's own rules on whether a club should play within their own area.
"The rules do get bent in exceptional circumstances, but I cannot see how this is exceptional because there is an offer for Coventry to carry on playing at the Ricoh on a cost basis, which is probably no different to what they'll have in Northampton."
In a statement on Monday, the Football League said: "It was a matter of deep regret that it had not proved possible for the club's proposed purchaser to reconcile its differences with the owners of the Ricoh Arena.
"However, with the new season less than four weeks away, the board required certainty as to where the club would play its matches from the start of the new campaign."
On Tuesday, two Coventry MPs tabled a Commons motion calling on the sports and tourism minister to convene an urgent meeting between the club, the Ricoh Arena, Coventry City Council - which owns half of the stadium - and the Football League.