Godiva Festival returns after flash flood cancellation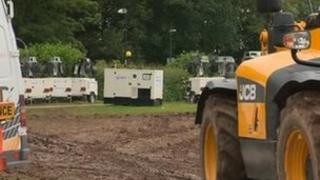 A three-day free festival, cancelled last year due to flash flooding, will return to the same venue in Coventry over the weekend.
The Godiva Festival, which attracts more than 80,000 people, was called off when the War Memorial Park became "dangerously boggy".
The city council estimated the cancellation cost it almost £450,000.
Local residents voted to keep the event in the park this year rather than moving it to the city centre.
The council said it had improved drainage on the site and installed a double track to make it easier to move heavy equipment.
The budget for the festival will again be £450,000 but the council expects to recoup £130,000 in income, a spokesperson said.
The outdoor event has been held in the park since 1998.
Echo and the Bunnymen, who were due to headline the 2012 festival, are returning to play on Friday night.