Social media version of A Midsummer Night's Dream staged by RSC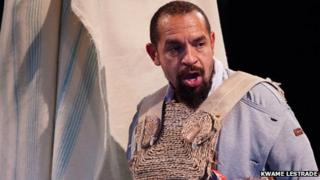 Social media is being used to tell the story of A Midsummer Night's Dream in a unique online performance.
The Royal Shakespeare Company project is being hosted by the social network site Google+.
Actors will perform the play in real time in rehearsal spaces and at the RSC's outside theatre, The Dell, in Stratford-Upon-Avon.
People will be able to follow the story and interact with characters via online blogs, photographs and Twitter updates.
The first act will be performed on Friday evening with the finale on Sunday night to coincide when the events happen in Shakespeare's script.
'Mumbai or Japan'
The RSC's director of events Geraldine Collinger said: "All the characters are capturing content from the live performances and will put them out via the different means of online communication.
"It will be like the way we communicate when we see a news story but it's taking that structure and putting a fictional story at the heart of it."
Paul Chahidi, who plays the part of Quince, said it would be a "different experience" for the actors because the play "is normally done in two and a half hours."
He said: "I see our performance at the heart of different elements, where people can dip in and out to discuss the issues and explore the play."
"The fact that someone in Mumbai or Japan could be logging on and reacting to what we're doing is exciting."
The RSC said it will release an audio recording of the play afterwards with links to the online content.
The company staged a version of Romeo & Juliet using the micro-blogging website Twitter in 2010.