Daniel Pelka murder: Boy like 'concentration camp victim', court hears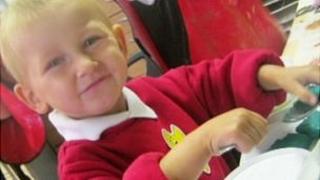 A boy allegedly starved and murdered by his mother and her partner, looked like a "concentration camp victim", a court has heard.
Daniel Pelka, four, died from a head injury in March 2012 after an alleged campaign of "incomprehensible" cruelty.
His mother, Magdelena Luczak, and her partner, Mariusz Krezolek, deny murder.
Dr Karen McLachlan told Birmingham Crown Court she was "horrified" because "she had never seen a child that emaciated" in a career of 30 years.
Mr Krezolek, 33, and Ms Luczak, 27, who came to the UK from Poland in 2006, have admitted child cruelty, but deny charges of murder and causing or allowing Daniel's death.
Dr McLachlan, the child protection lead at Coventry and Warwickshire's NHS Trust, told the court she had first seen Daniel's body at a mortuary on March 5 last year.
'Skin hanging off'
She said he weighed less than 24lb (10.7kg), which was 9lb (4kg) less than he weighed in January 2011.
She told the jury she was "horrified" by his appearance.
"I think most of the jury will have seen pictures of children and adults who have been the victims of concentration camps and that's what Daniel looked like," she said.
"He looked tiny - his skin was hanging off in folds from his thighs and his arms," she said.
"His tummy was extremely thin, his eyes were sunken and he had a number of bruises."
Dr McLachlan said that other parts of Daniel's body appeared to be "wasted" and his hips and rib-cage were sticking out.
Under cross-examination by counsel for the defence, the doctor said part of Daniel's appearance in death was due to dehydration.
The trial continues.