Coventry bus route is longest in Europe at 31 miles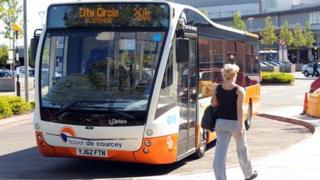 A new bus service for Coventry will have the longest continuous urban route in Europe, operators claim.
The 360 route is 31.5 miles long (50km) and has stops at the University Hospital of Coventry, Jaguar Land Rover and the University of Warwick.
Centro said it was six miles longer than the number 11 outer circle route in Birmingham which has been Europe's longest urban route since 1926.
The service starts on Sunday and will operate twice an hour every day.
The 360 service is an amalgamation of the old 801 and 701 services, which will be withdrawn, Centro said.
'Use or lose it'
It will run via the University hospital at Walsgrave, Willenhall, Jaguar Land Rover in Whitley, the University of Warwick , Tile Hill railway station, Whoberley, Whitmore Park, the Ricoh Arena in Rowleys Green and the Arena Park shopping centre.
John McNicholas from Centro said: "Passengers said they wanted a service that linked destinations on the outskirts of the city but they didn't want to travel into the centre.
"It is up to people to use it or lose it, because the bus service is run on commercial lines. If it doesn't pay then it won't continue to happen."
The route has been launched by Centro and will be operated by Coventry bus firm, Travel de Courcey.
Director Adrian de Courcey said: "We take considerable pride in knowing that not only are we operating such an important service but one that also puts the city on the map."
The Birmingham outer circle road route is about 26 mile (42 km) and takes about 2 hours to ride.
The service has been the inspiration for songs, stories and an annual calendar.