Coventry City fans appeal for club to stay in city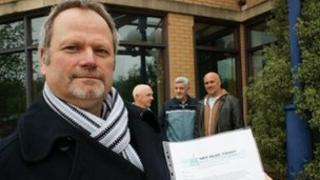 Supporters of Coventry City have called for proposals to move the club outside the city to be abandoned.
Earlier in May the Sky Blues announced plans to build a new stadium, requiring a temporary move to another ground.
The plan was drawn up because of a row over unpaid rent between club owners Sisu and Arena Coventry Limited (ACL), which runs the city's Ricoh Arena.
Earlier, about 15 fans gathered outside the latest administrators' meeting to hand over a letter urging a rethink.
The letter, addressed to Paul Appleton, joint administrator for Coventry City Football Club and ACL, said plans to move the League One club could "kill it altogether".
'Extra travel costs'
It was backed by supporters who gathered outside the Hilton Hotel in Coventry earlier as a meeting was held between administrators of the club and creditors.
The fans have vowed to make their presence felt at every stage of the planning process.
Jan Mokrzycki, from supporters' group the Sky Blue Trust, said: "If they cared about the club they wouldn't be wasting time looking at other grounds, they'd be doing everything they could to sort this out and get a deal with the stadium here."
Supporter Liz McConnell said: "We don't want our football club to play anywhere other than Coventry.
"It's not fair for the supporters to incur extra costs for getting to other places like Walsall for 'home' games.
"We just want the club to stay in Coventry and concentrate on football again.
"If we move away for three years there'd be nothing left of it when we got back," said supporter Keith Ireland, adding: "We must stay in Coventry or we'd see such a dramatic drop in numbers and income, the club would die."
After three hours the meeting was adjourned for two weeks without resolution between the administrators and creditors.
Arena doors 'open'
Discussions over potential sales of the club have previously been complicated by confusion over the ownership of the Golden Share, which entitles membership of the Football League.
Mr Appleton described the meeting as "positive" and said: "I can confirm all parties have agreed to adjourn until June 12 when we will meet again to discuss my proposals.
"In the meantime, the sale process is ongoing and I am continuing my investigation."
An Arena Coventry Limited spokesman said: "ACL will continue to do all it can to work with the administrator and the Football League to resolve matters.
"We are a successful business and want the Sky Blues to be part of our continued success in the years to come.
"Our doors are open to the club and there is no need whatsoever for them to be playing outside the city of Coventry."