Warwickshire Police send found and seized bikes to Africa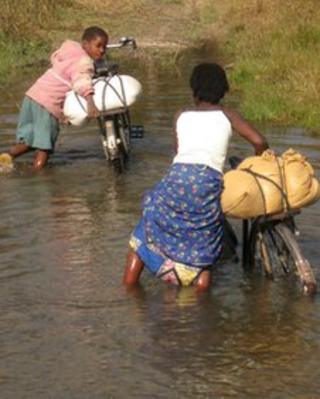 Bicycles found or seized by Warwickshire Police are being sent to Zambia to "help improve life prospects" in rural communities.
They are checked before being sent to Africa for those in education or work.
So far 12 bikes have been donated to the UK charity Re-Cycle, which provides cheap transport in Malawi, Kenya, Namibia and other African countries.
The bikes can also be adapted to carry goods and passengers and aid travelling health workers.
Save hours walking
Partners of the charity are teaching repair and maintenance skills to those who receive the bicycles in Africa.
Damaged bikes or bikes in poor condition are stripped down and the spare parts are also sent overseas.
Derek Balcombe, operations manager at the charity, said: "The bikes have now been sent to Zambia, part of a load of 434, where they will be used to help improve the lives of subsistence farmers in rural areas.
"They will provide a low cost and sustainable means of transporting produce to market and save people many hours of walking each day."