Daw Mill coal mine fire extinguished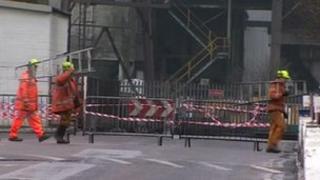 A fire at a deep coal mine which had been burning for months has been extinguished, UK Coal has said.
The blaze at Daw Mill, Warwickshire, which started in February, led to the company shutting the mine, with the loss of 650 jobs.
A spokesman said the oxygen supply to the mine had been cut off and the area would remain sealed for the foreseeable future.
The mine was one of the last operating deep coal mines in the UK.
The fire at the mine left UK Coal with cash-flow problems and prompted speculation it could apply for voluntary liquidation.
Earlier this month the UDM union warned hundreds of Daw Mill's miners could lose out on redundancy payments if that happened.
UK Coal has said its business remains viable but that all options are being considered as part of restructuring.