Tollbar End roundabout consultation starts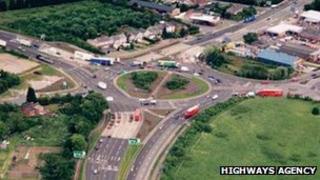 A consultation has begun into proposed modifications of a plan for work to the Tollbar End roundabout in Coventry.
The scheme, announced in 2011, aims to ease congestion, improve journey times and increase the capacity of the island, as well as the A45 and A46.
Changes include adding a lane on a slip road at Stivichall Junction and moving slip roads at Tollbar End.
A Highways Agency spokesman said the consultation will last four weeks.
'Increase capacity'
Project manager Paul Nagra said: "The consultation is only for the modifications we're looking to make.
"The current roundabout is very heavily congested and is a very important link for local and national traffic.
"What we're looking to do is enlarge the roundabout at Tollbar and put an underpass to connect the A45 with the A46 so up to 40% of the traffic will be taken off the existing roundabout.
"It will increase the capacity, improve the safety of the area and provide better access to the businesses."
Work on the two-mile stretch of road is expected to take three years to complete and could begin by March next year.