Rubbish fire at Long Marston Sims recycling centre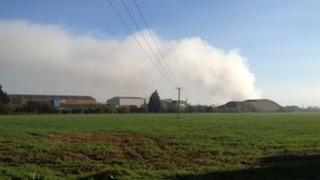 Firefighters are tackling a blaze at a Warwickshire recycling plant that has been burning for several hours.
The fire, involving about 12,000 tonnes of waste and plastic, started at 21:10 BST at Sims Metal Management in Long Marston, on Tuesday.
There are eight fire engines at the site and Hereford & Worcester Fire and Rescue Service said it was the second fire at the premises within a month.
An investigation into its cause is under way.
Residents in the immediate area are being advised to keep windows and doors closed until further notice.
'Raging inferno'
Station commander Gary Jay said: "This is a deep-seated fire and we anticipate that it will be on-going for some time yet.
"We are monitoring the weather and wind patterns, and liaising closely with police, the Environment Agency, local health and on-site staff to determine a plan as we move forward."
The Environment Agency in the West Midlands tweeted it had been monitoring the local brooks and that it had not found any environmental impact from the fire so far.
Tim Longford, who farms nearby, said he saw smoke coming from the site at about 21:00.
"The big black plume just continued to go on up into the air and it drifted across us… And the whole of the farm where I am was blanketed over high in the sky with black smoke," he said.
The recycling plant sits near the border of Gloucestershire and Worcestershire.
Mary Potter, who lives in Mickleton, Gloucestershire, said smoke and "choking fumes" started to blow towards her property at about 01:00.
"The last fire was about two or three weeks ago, it started around the same time in the evening," she said.
"The fire brigade I believe was on site for two days, and the glow from it could be seen days later."
Alastair Adams, Wychavon district councillor for Honeybourne and Pebworth, said Tuesday's fire went "from a bonfire to a huge raging inferno".
He said he could quickly see it was going to be huge as it "grew so fast and filled the whole sky within three minutes".