Whitmore Park named as Coventry special measures school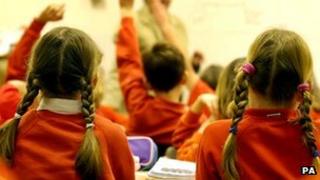 Inspectors have named one of two Coventry schools to be placed in special measures as Whitmore Park Primary School.
Ofsted carried out inspections at 11 schools in the city and surveyed a further 11 by telephone last month.
It previously said two schools were in special measures but did not name them.
In a report published on Monday, inspectors said too many pupils were underachieving by the time they left Year 6 at Whitmore Park.
Inspectors also said there was a culture of low expectations of what pupils could achieve, that teachers did not plan work for pupils that was "sufficiently challenging", and that governors did not effectively challenge the school.
However, they said pupils at the early years foundation stage made "good progress" and teaching there was good and "often outstanding". They also said pupils behaved well in lessons.
Ofsted is expected to release the name of the second, unnamed school, in a separate report over the next few weeks.
'Not acceptable'
Whitmore Park Primary School told the BBC it did not want to comment.
David Kershaw, the cabinet member for education at Coventry City Council, said the authority had appointed a new head teacher at the school.
"We knew the situation and therefore we have got an outstanding head from an outstanding school in Coventry working there," he said.
"They have started work in the last fortnight, from straight after the Easter break, so that is an immediate response."
Ofsted organised last month's inspections to try to find out why just 54% of primary age children in Coventry attended a school rated good or better, compared with a national average of 74%.
Inspectors visited a nursery school, nine primary schools and a secondary school between 11 and 15 March.
Mr Kershaw said the city council "was aware that education provision was not acceptable" in some schools.
"Over the last 12 months, systematically across the city, the council has been supporting and challenging those schools and there is considerable evidence that we are rapidly improving," he said.