Bring The Happy records memories from Coventry residents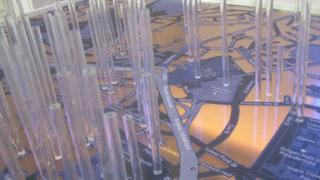 From life-changing moments such as giving birth, to growing a beard that made you look like Johnny Depp, residents of Coventry have been sharing their happiest memories.
They are being collected for a project called Bring the Happy at an empty shop in the city centre on 1 and 2 May.
The stories will be recreated into a show at Warwick Arts Centre, featuring Leeds band Hope & Social.
Production company Invisible Flock has taken over the space at Bull Yard and is inviting members of the public to share memories, which will also be recorded on a giant 3-D map.
'Absolutely stunning'
Stories recounted so far, most of which are anonymous, include spending a whole day with family at Quinton Pond, using a tabletop to go sledging at Charterhouse Fields, and looking back on the last day of secondary school.
One man contributed: "I grew a beard and people said it was awesome and stroked it and said I looked like Johnny Depp."
Victoria Pratt from Invisible Flock said: "They're [the stories] absolutely stunning… We had a retired train driver who came in and was talking to me at length about when he used to drive the steam trains across the country from London to Coventry.
"We had a woman in today who left a beautiful memory about meeting her husband for the first time, they'd been together 59 and a half years, and he died last year. "
Seven-year-old Thomas Lomas remembered a school trip to Coventry Cathedral, rating it 10 out of 10.
He said: "It was a relaxing place, it was quite quiet and I got to sit and look at the Coventry Cathedral."
'Uplifting memory'
Project volunteer Imad Sadiq, from Leamington, said: "A gentleman came in to tell me about starting a soccer team for his son from scratch, they had nothing. He had no training.
"He got the qualifications, he got them the kits, he used to collect the kids and take them to the training ground and in their first season they won all their games - his son is a lead scorer of 47 goals.
"It's the proudest moment of his life, he says.
"You could tell the bond between him and his son was beautiful to see
"It made him so happy, it was a really uplifting memory."
Ms Pratt said: "On the 1 and 2 May we are taking all the stories that we've collected are we are attempting to retell them in a big kind of celebration of the city.
"It really is a celebration of everything we've collected."
Thousands of people took part in the project in Leeds in 2011 and people from around the world can also add their memory to the online digital map.