Welford-on-Avon cottage 'destroyed' by fire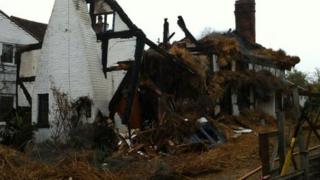 A fire that "completely destroyed" a thatched cottage in Warwickshire, is believed to have started due to heat transfer from the chimney to the roof.
About 30 firefighters from Warwickshire Fire and Rescue Service tried to save the house in Welford-on-Avon for several hours on Wednesday evening.
A fire service spokesperson said high winds caused the fire to "spread rapidly across the roof space".
All of the occupants left the house safely, the spokesperson said.
The fire did not spread to any other properties.
Firefighters stayed at the cottage for most of Thursday, damping down the fire.
Ian Tonner, station commander for Warwickshire Fire and Rescue Service, said: "This was a very old cottage with low ceilings and a thatched roof.
"This meant that we had to dig out the roof space, similar to the way you would with a barn fire in order to get to the fire below.
"Due to the high winds, the fire spread rapidly and, despite our best efforts, the property was completely destroyed."