Coventry Ofsted report: Two schools in special measures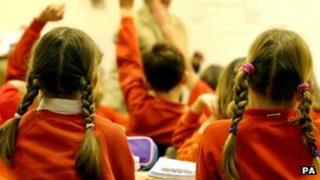 Two Coventry schools have been placed in special measures and five more require improvement, Ofsted has said.
The watchdog carried out inspections at 11 schools in the city and surveyed a further 11 by telephone last month.
Ofsted had previously said the number of primary age children attending a school rated good or better was below the national average.
The city council, which is responsible for 89 primary schools, said the report also recognised recent improvements.
Ofsted organised the inspections in a bid to find out why just 54% of primary age children in Coventry attended a school rated good or better, compared with a national average of 74%.
Inspectors visited a nursery school, nine primary schools and a secondary school between 11 and 15 March.
It graded four as good for overall effectiveness and said five that had previously been satisfactory now needed to improve.
The two schools placed in special measures had also previously been judged as satisfactory.
Ofsted is expected to formally name them later this month.
'Closure threat'
In its report, Ofsted said: "There is general recognition of recent improvements in the local authority's support for schools and an awareness of a greater degree of challenge.
"However, there is still some way to go in establishing a widely understood and methodically delivered strategy for improvement.
"There is an urgent need to ensure that the revised arrangements for school improvement are systematically embedded so that they lead to lasting and demonstrable progress across the city's schools."
The city council's cabinet member for education, Labour councillor David Kershaw, said the number of improving schools has risen over the last six months.
Mr Kershaw said: "We have got 60% that are good or better. We have made a 20% improvement and in the letter from Ofsted they recognise that.
"We're still not satisfied in that not enough schools are good or outstanding."
Anne Brimacombe, from the NASUWT teaching union, fears the report could lead to more schools being forced to become academies.
Ms Brimacombe said: "Primary schools that were good and improving, the Department for Education came and said if you don't become an academy we're going to close you down.
"Strangely enough Ofsted comes a month later and tells the schools they're suddenly in special measures."