Bulldog Bash biker festival in Long Marston cancelled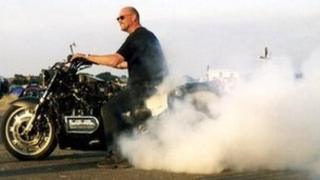 The Bulldog Bash biker event in south Warwickshire has been cancelled this year, organisers have said.
The annual four-day event at Long Marston Airfield had been scheduled to begin on 8 August.
A statement posted on the festival's Facebook page read: "The Bulldog Bash is taking a year out for this year 2013 ready to regroup for next year 2014."
No details were released about why the festival - which was marred by a fatal shooting in 2007 - had been cancelled.
In a statement, the organisers said the event will return in 2014 with a "leaner set-up" and more of an "old school bike show feel".
They thanked fans, the people of Stratford and surrounding villages and Stratford Council for their support over the past 26 years.
The event attracts thousands of bikers each year but was hit by tragedy when Hells Angel Gerry Tobin, 35, was shot dead by members of rival biker gang The Outlaws.
Seven men were later jailed for his murder, which happened on the M40 as he rode away from the festival.