Coventry Olympics ambassadors scheme could continue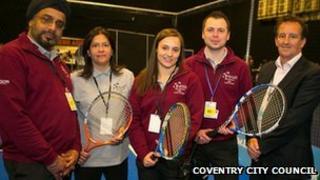 A Coventry volunteers scheme set up to provide help to spectators during the 2012 Olympics could be made permanent.
Last year, 330 Coventry Ambassadors were recruited to assist visitors who attended the 12 football matches that took place in the city.
The volunteers have since been used for other events including the recent Davis Cup tennis at the Ricoh Arena.
City councillors are being asked to back Coventry University's proposal to continue the scheme for future events.
The university wants to set up a social enterprise to build on the work of the volunteers, who also helped out at the city's Christmas lights switch on and half marathon.
The council said plans to provide about £20,000 to help fund the launch of the scheme will be discussed when the cabinet meets on 15 April.
Leader of the Labour-run authority, councillor John Mutton, said: "We've always made clear that the Olympics in Coventry had to be much more than a great summer, it had to leave a lasting legacy.
"Over the coming months we'll be looking at other initiatives, ideas and programmes that were launched last year to see what we can build on for the future."