Lorry crashes off M42 flyover on to M6 Toll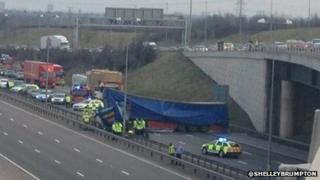 A lorry has left a flyover on the M42 and crashed on to the M6 Toll.
The accident happened at Coleshill, Warwickshire, near junction T1 on the northbound carriageway of the M6 Toll just before 18:30 BST.
West Midlands Ambulance Service said the lorry driver, a man in his 50s, had an "amazing" escape.
He was treated for serious lower leg fractures, and airlifted to the Queen Elizabeth Hospital in Birmingham, a spokesman said.
The accident closed the M42 northbound between junction 7A and junction 9, and the M6 Toll northbound between junction T1 and the M42.
An ambulance service spokesman said: "Miraculously there were no cars passing at the time - it would have been far worse if there had been."
Warwickshire Fire and Rescue Service said 1,200 litres (263 gallons) of diesel had leaked on to the carriageway after the accident.
An investigation is under way into whether another vehicle was involved on the M42, a Warwickshire police spokesman said.
The lorry was empty at the time of the crash, he added.