Keresley Jubilee Wood trees replanted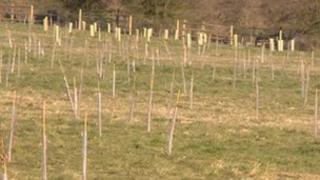 Dozens of trees have been replanted at a wood near Coventry that was attacked by vandals.
About 40 trees were stolen from Jubilee Wood in Keresley and many others were uprooted and damaged about a week ago.
The Scots pines, estimated to be worth just a few pounds each, were believed to have been specifically targeted, the parish council said.
Volunteers joined park rangers to plant replacement trees at the wood, which was only set up last year.
Corinne Muir, from Coventry City Council, said fellow park rangers and members of the parish council would be visiting the wood at nights to check the condition of trees.
Alan Owens, from Keresley Parish Council, first noticed the damage on Monday.
He said a number of the canes had also been taken, which suggested thieves might be planning to re-pot and sell-on the pines.