Warwickshire puppy pilot 'to cut animal attacks'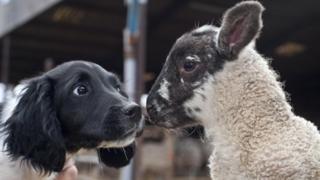 A project to acclimatise dogs with livestock is being run in Warwickshire in a bid to cut the number of attacks on animals across the UK.
The NFU Mutual insurance company said sessions would see dogs introduced to livestock at an early age.
The project is being run in partnership with the Association of Chief Police Officers and the British Horse Society.
It will be led by PC Keith Evans, who is a dangerous dogs liaison officer with West Midlands Police.
Nikki Whittaker, from the project, said: "The idea is to target puppies from 14 weeks old who have gone through their vaccination programme and take them to a working farm or agricultural college and introduce them to sheep, cows and horses in a controlled setting.
"If they get to know the smells and sounds of animals early on they should come to understand that they're not a threat."