Coventry's Old Grammar School given building permission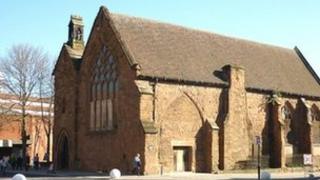 Plans to restore a piece of Coventry history have been given approval.
Planning permission has been granted to repair the Old Grammar School and replace an adjoining building to provide disabled access.
If funding bids are successful applicants from Coventry Transport Museum hope to extend into the 14th Century former school.
The Grade I listed building, on the corner of Bishops street and Hales Street, would house new exhibitions.
In April last year, The Heritage Lottery Fund (HLF) said campaigners could apply for £4.9m to refurbish the the building. A further £3m is being sought through other applications.
In October 2012 the Old Grammar School was added to an English Heritage list of historic buildings at risk of being lost because of decay, damage or neglect.
The Coventry Society, which campaigns for the city's heritage, has welcomed the restoration proposals.