Ofsted inspects Coventry schools 'to promote academies'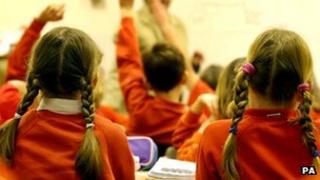 Teaching unions have claimed a focus on Coventry primary schools by Ofsted is designed to encourage more of them to become academies.
Eleven schools in the city are being targeted this week by inspectors investigating poor standards.
The NASUWT union said the approach was "politically motivated" and intended to promote so-called "academisation".
The watchdog said it was "entirely independent" of government and the visit was based on performance data.
Ofsted said just 54% of primary age children in the city have access to good or outstanding education, compared with a national average of 74%.
Louise Soden, from the organisation, said all the schools being visited were due to have inspections but they had been brought forward to complete them within a week.
She said the visits were becoming more common and helped Ofsted build up a good picture of the health of education in a local authority.
"I think parents would want us to be having the kind of look we are in Coventry schools at the moment," Ms Soden said.
About 50 teachers protested outside the Department for Education's (DfE) offices in the city on Wednesday evening over what they described as "destructive" policies and a push towards academies.
'Terror weapon'
The DfE said its reforms were designed to give power back to teachers and raise standards at the weakest schools.
Martin Johnson from the Association of Teachers and Lecturers (ATL) said the week-long visits by Ofsted were a new development and were being used as a "terror weapon" against schools and teachers.
The watchdog is also due to hold phone surveys with 10 other schools in the area "to talk about the support and challenge that the council provides".
Victor Aguerra from the NASUWT, said the local authority had been unfairly targeted.
He said significant improvements had been made at schools in the last year, thanks in large part to the council's support.
The local authority is responsible for 89 primary schools in the city. While there are 10 secondary academies, there are currently no primary equivalents.
In September the government backed down on plans to turn Henley Green Primary School into an academy after the council sought a judicial review over the decision.
Mr Aguerra said academies had their place, but "should not be the only option to deliver school improvement".