Coventry council tax tax freeze proposed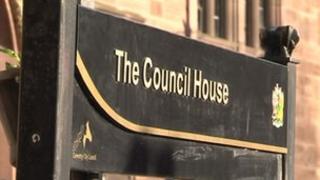 Council leaders in Coventry have recommended that council tax should be frozen for the next financial year, despite originally planning a 2% rise.
The authority would instead receive a £1.2m grant from the government, deputy leader George Duggins said.
Proposals to save £29m over the year are also included. The council's budget setting report which will be discussed by councillors later this month.
Councillor Duggins said freezing council tax was a "no brainer".
Mr Duggins, from the ruling Labour party, said: "Although we originally thought we might need to propose a modest rise in council tax to help us tackle some of the challenges ahead, the complexities of government funding means that the city benefits more from a freeze in council tax - so that's what we're doing.
"By raising the council tax we could only raise it by 0.9% without a referendum.
"As a result of the grant we can get £1.2m for this year."
Savings of £3m have been identified in frontline community services and a further £2m through the use of outside organisations to provide services.
Mr Duggins added: "We are faced with making some very painful decisions about our services and losing more posts at the council than we originally anticipated.
"We are doing all we can to protect our most vulnerable residents and help the people who need our help the most.
"At the same time, we're looking to the future and ways we can invest to create more jobs, deliver regeneration schemes... and take bold decisions that will help bring growth and prosperity."