Weddington homes row: Village green status bid refused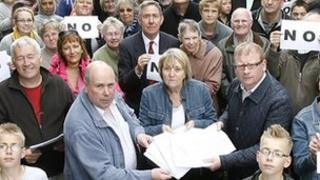 Campaigners in Warwickshire have said they will continue to fight plans for 300 new homes, despite losing a bid to get the site declared a village green.
Members of Save Weddington: Oppose the Residential Development (Sword) said the green space in Nuneaton is not suitable for development.
A government inspector recommended refusal of the village green application following a public inquiry.
Warwickshire County Council will make a final decision on the plan on Tuesday.
Planning permission for the proposal by Hallam Land Management to build 326 homes on land next to Weddington Parish Church was granted last year.
Colin Burrows, from Sword, said: "We're devastated by the outcome of the inspector's report because we believe we've fulfilled all the criteria necessary for the fields to be classified as a village green."
"The fight goes on, we're putting pressure on the council and local MPs to support us because it could still be overturned.
"The council meet on Tuesday, we will have opportunities to make arguments on that particular day, and hopefully they'll see the need to support the local community rather than developers."
Warwickshire County Council said it had noted the recommendation of the inspector and it was looking at her report before making a final decision.