M6 fatal lorry crash driver 'ignored warning signs'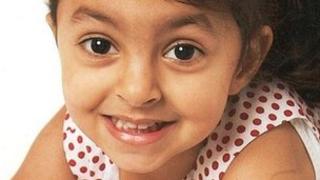 A lorry driver charged with causing the death of a four-year-old girl in a crash on the M6 in Warwickshire ignored warning signs, a court has heard.
Robert Booth, 64, of Brockley Street, Sunderland, is accused of causing the death by dangerous driving of Priyanka Bhogal in November 2011.
Warwick Crown Court was told Mr Booth was travelling at 55mph despite gantry signs displaying a 40mph limit.
Mr Booth denies the charge relating to the crash between junctions 4a and 4.
Priyanka, from Coventry, died in hospital from a head injury following the incident on the southbound carriageway on 27 November.
Opening the case for the prosecution, Nigel Wilkins said another incident on the motorway had caused traffic to back up prior to the fatal crash
Jurors were shown footage of the section of the M6 and told by Mr Wilkins "signs were being displayed to both control the speed of the traffic and warn traffic of a problem ahead".
'Screeching of brakes'
The court was told Priyanka was in rear passenger seat of a Vauxhall Zafira driven by her mother, Baljit, as they returned home from a family gathering in Walsall.
Mr Wilkins said Mrs Bhogal switched on her hazard lights and saw the defendant's lorry coming from behind with its headlights on.
"Mrs Bhogal was then aware of a noise," Mr Wilkins continued.
"She described it as screeching of either a horn or the screeching of brakes, and the lorry then collided with the Zafira with tragic consequences."
The prosecutor said that Mr Booth's driving was "obviously dangerous".
"[Mr Booth] is far, far too late in braking and as a result causes this collision and causes the consequences of this collision," he said.
Mr Wilkins said the jury was likely to hear from an expert giving evidence for the defence that the defendant was asleep, not as a result of tiredness, but because of a particular disorder.
"The prosecution's case is that this was dangerous driving - that falling asleep did not come into the equation," he said.
The trial continues.