Midland fire service cuts questioned in Parliament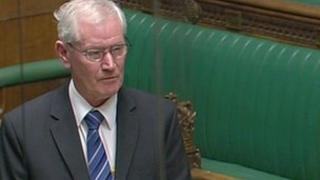 Budget cuts facing the West Midlands Fire Service have been questioned in Parliament.
Jim Cunningham, MP for Coventry South, asked why the service was facing "cuts of nearly 19%" despite having a high incident rate.
Local Government Minister Brandon Lewis, answered that the service had benefited from settlement changes.
He added it was "one of the authorities that has gained most from the capital grant funding of £11.5m."
'Full whirlwind'
Speaking afterwards Labour MP Mr Cunningham said his concern was revenue for "day-to-day spending and income" rather than capital for investment.
He added: "This government's only implemented 20% of the cuts we can expect so the full whirlwind of this is yet to hit.
"Unless you keep trying and show them you're determined, nothing will change."
The West Midlands Fire Service is facing a £10m reduction in government funding between 2011 and 2013, with the cut expected to reach £30m by 2014.
A voluntary redundancy programme is already under way, with over 200 jobs under threat.