'Delight' as Warwickshire school bus chaperones return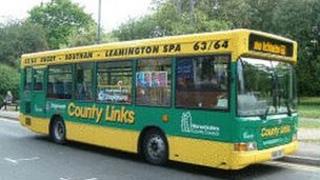 Parents have said they are are "delighted" Warwickshire school bus chaperones are to return.
Warwickshire County Council removed the passenger transport assistants, as part of plans to save £1.4m on the school transport budget.
The council now says it is on course to make savings "through other measures".
A petition was submitted on Friday with 7,000 signatures from parents and teachers asking for the chaperones to be reinstated.
Caroline Adams helped organise the petition and said: "I'm absolutely delighted at the decision. Myself and a number of other parents have really campaigned on this for at least the past 18 months.
'Price on safety'
"It felt as though the savings weren't being achieved and you can't put a price on your child's safety.
"It's been awful without the chaperones, having to put them on the bus worrying about them on that journey."
Hannah Gomm's four-year-old nephew was left at the wrong bus stop when his chaperone was taken away from his Wolvey Primary School service.
She said: "This is a huge success for us and will keep children safe once again on their journey.
"We look forward to that [reinstatement] being implemented quickly on the nine schools that have already lost them."
Heather Timms, portfolio holder for Children, Young people and Families, said: "The council has been able to meet the £1.4m it identified as a necessary saving from the school transport programme through other measures, so we are willing to acknowledge the concerns of parents and schools and reverse this decision."
She added: "It will take time, the bus companies will have to recruit and will have to have the proper checks but we've already put one passenger transport assistant back on in the south of the county."
Passenger assistants were removed in two phases in September 2011 and February 2012.