Royal Marine Mark Williams awarded Military Cross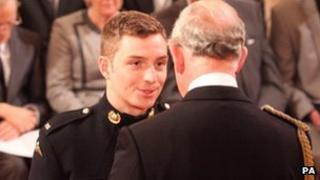 A Royal Marine from Warwickshire has received the Military Cross for rescuing a wounded comrade under fire.
Mark Williams, 23, from Nuneaton, was awarded the gallantry medal by Prince Charles at a ceremony at Buckingham Palace.
Marine Williams said he was "really chuffed - over the moon".
Along with colleagues of 30 Commando he was ambushed by insurgents while on patrol in Afghanistan in May 2011.
When a colleague was hit in the chest, Marine Williams raced out of cover to treat him, before dragging him 30m behind a wall.
Marine Williams, who attended St Thomas More Roman Catholic School in Nuneaton until 2005, was presented with the award on Friday.
He said of the rescue of his comrade: "When I saw him lying out there, I just knew I had to get to him.
"There were bullets hitting the ground around me as I went over to pull him back.
"I don't remember being really afraid at the time, I was just thinking that he was a big lad and was hoping I could drag him back safely."
The two men continued to come under fire and once his injured colleague was stabilised, Marine Williams returned to the fray.
The injured lance-corporal made a full recovery.