Warwickshire bus driver acquitted of death of man, 71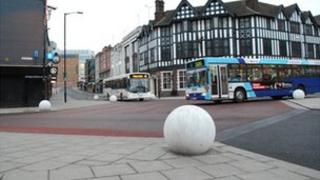 A Warwickshire bus driver has been formally acquitted of causing the death of a man in Coventry after no evidence was given by prosecutors at his trial.
David Thompson, 71, was injured in a crash on Hales Street last January.
He died the following month and Craig Robinson, from New Arley, was charged with causing his death by careless or inconsiderate driving.
Mr Robinson was acquitted after a key witness provided evidence "not contained in their original statement".
Mr Robinson, 45, of Lichfield Close, had pleaded not guilty to the charge at the trial at Coventry Crown Court on Monday.
Graham Hubbard, of the West Midlands Crown Prosecution Service, said the CPS had authorised police to charge Craig Robinson after reviewing a file of reports and statements.
Mr Hubbard said: "On the first day of the trial, Monday 28 January, a key witness provided evidence to the court which was not contained in their original statement.
"As part of our duty to keep cases under constant review, we reassessed this new information and a decision was made not to proceed with the prosecution."
'Need for justice'
Mr Thompson, who was partially sighted, suffered a shattered pelvis, two broken legs, a broken arm and lacerations to his lower leg in the incident involving the Stagecoach Midlands bus on 10 January 2012
The incident happened in one of the city centre's "shared spaces", areas used by vehicles and pedestrians.
The pensioner later had to have a leg amputated and died on 12 February.
Mr Thompson's niece Margaret Thompson said the area was "very dangerous" at the time of the accident because the location had only recently become a space where both vehicles and pedestrians have an equal right of way.
Ms Thompson said the family would not give up trying to find out what happened.
She said: "It's not the end of it. [There] has to be to blame.
"Is it because the junction's too small and you can't share that space?
"There needs to be some justice for my uncle so we won't let it lie."
Coventry City Council subsequently installed a zebra crossing nearby.
The council's cabinet member for city services, Lindsley Harvard, said: "Our sympathy is with the family for their loss.
"We constantly monitor the road network and will continue to monitor the whole city centre very closely.
"The crossing was planned to go in before the accident but was delayed because of objections."
Stagecoach Midlands said: "Our thoughts remain with Mr Thompson's family at this difficult time.
"We assisted the police with their inquiries into the incident as well as carrying out our own internal investigation. Safety remains our absolute priority."