Ash dieback disease discovered at Warwickshire nursery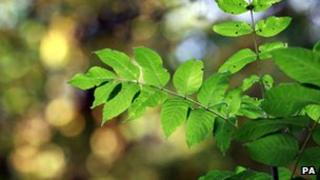 The ash dieback disease has been found in Warwickshire.
A spokesperson for Bernhard's Nurseries, on the Straight Mile, near Rugby said initial tests by Defra had confirmed the fungus in one batch.
The nursery said further tests were now taking place and it was checking with its supplier whether the tree was grown in the UK or imported.
It said it was not clear how many trees were infected or which were to be planted on site rather than sold.
More than 100,000 trees have been destroyed in the UK to slow the spread of the disease with East Anglia particularly badly hit.
The disease, also known as Chalara ash dieback, has devastated woodland across Europe, although other trees are not affected.
'Very worrying'
The fungal spores are thought to spread on the wind, although there are concerns that they may also be transferred from fallen leaves.
At the weekend Defra advised walkers to wash their boots to help limit the spread of the disease.
Steve Trotter, from Warwickshire Wildlife Trust, said: "It is very worrying. It is potentially very bad news for wildlife and our landscapes if the disease is as bad as it could be."
He said the trust would be keeping a careful watch on its nature reserves for the early signs of the disease.
Trees cannot be vaccinated and there is no known cure for ash dieback.
"Ash is our third most common tree, really important in hedgerows and woodlands. They support over 100 species of insect, on which birds feed and all sorts of other wildlife feed," Mr Trotter added.