George Eliot Hospital's death rate higher than expected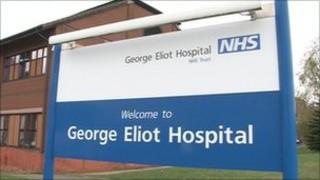 The death rate at a Warwickshire hospital remains among the highest in England, according to new NHS figures.
A total of 997 deaths were observed by the George Eliot Hospital NHS Trust in Nuneaton in the year ending March 2012. Only 857 were expected.
The hospital had the country's highest rating for the previous year but has dropped from 21% more deaths than expected to 16% this time.
A hospital spokesman said an external review had helped spark an improvement.
'No quick fix'
George Eliot was rated 1.16 by the Summary Hospital-level Mortality Indicator (SHMI) compared to 1.21 last year and is one of 10 hospital trusts across the country to have a higher than expected death rate.
The SHMI looks at deaths in hospitals and up to 30 days after a patient is released.
The hospital's chief executive Kevin McGee said the latest rating indicated they were moving in the right direction.
Mr McGee said: "We are still some distance from where we want to be.
"We always knew this wasn't going to be a quick fix; this is very much a journey, both for the trust and the wider health economy.
"Securing a strategic partner for the organisation will be part of this journey, ensuring services and high quality care remain sustainable in the long term."
'Used to judge'
A review that began last November identified four main areas of improvement which included reducing the number of transfers inpatients make between different wards.
A Department of Health spokesperson said they would work with strategic health authorities to "follow up any trust with higher than expected results", adding they would expect appropriate action to be taken where needed.
"It is important to remember that this data alone cannot be used to judge the quality of care at any given NHS organisation," they continued.
"It is experimental data - when used alongside other data it will help the NHS to spot and act on poor care quickly, but on its own does not necessarily mean there are problems."