Women's football celebrated in Coventry exhibition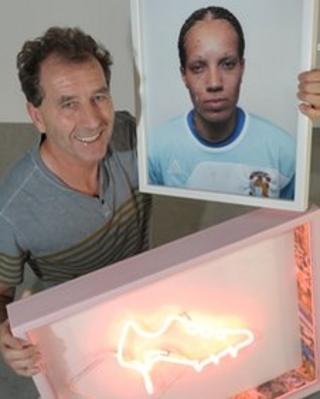 An exhibition highlighting the history of women's football opens in Coventry - the same week that the city hosts women's Olympic football matches.
Moving the Goalposts, hosted by Coventry University's Lanchester Gallery, looks at its history in Britain from 1881 to the present day.
The first women's Olympic football match will be held at the City of Coventry Stadium on Wednesday, a day before the official opening ceremony.
'A brilliant opportunity'
Curator Colin Yates said: "I started the project about 18 months ago and just by chance most of the artists that I selected were based in the Midlands.
"We've found out brand new things about women's football, including the first information about the first black woman footballer called Carrie Boustead, who played in the late 1890s."
"I wanted to display the exhibition in Coventry, my home town, and it also coincides with the Olympic football tournament.
"For me to tie everything in was just a brilliant opportunity.
Exhibits include paintings, drawings and photographs.
Moving the Goalposts is also a joint project between the city council and the university and is supported by the Professional Footballers Association.
Work from the exhibition has been used to illustrate Gabby Logan's BBC documentary Sexism in Football.
It is also one of the first exhibitions for the gallery, which opened in January and is part of the students union hub building in Jordan Well.
One of the artists showcasing her work is Jaskirt Dhaliwal, who photographed Coventry City Ladies to celebrate the city's involvement in the Olympics and its local footballing talent.
Carl Bainbridge from the city council said people visiting the city would not only enjoy the "experience of the football" but "everything else on offer".
"We want to encourage people to spend more than just the football matches with us," he said.
The exhibition is free and opens on Tuesday until 12 August.