Coventry Cathedral ruins restoration work begins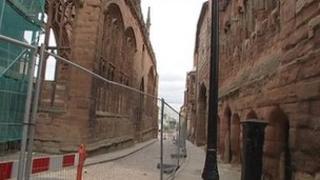 Emergency work has started to repair a section of ruins at Coventry Cathedral that were in danger of collapse.
On part of the former 14th Century cathedral a large crack has opened in one of the walls along Bayley Lane.
In May a fundraising campaign was given $150,000 by American Express after an appeal by the World Monuments Fund.
The work, being completed by restoration specialists Norman and Underwood, is expected to cost about £250,000 and be completed by November.