Coventry church marks 80 years since consecration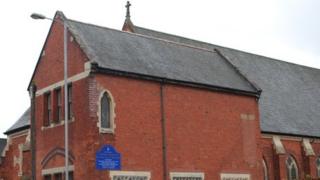 A Coventry church has marked 80 years since its consecration, despite having been part of the city since 1893.
St Mary & St Benedict Roman Catholic Church in Raglan Street, Hillfields, is the second oldest Catholic church in Coventry after the Reformation.
However, because of rules within the Roman Catholic church, the consecration could not happen until it had been paid for.
There was celebration on Sunday inside the church and in its garden.
'Lively bunch'
Parish priest, Father Jimmy Lutwama, said: "Because the church had some debts to clear, in the Catholic tradition you need to be free of debts to consecrate a church.
"The parishioners could only clear debt in 1932, so it took 40 years to have it consecrated."
A marquee was erected in the garden and a wide-screen television will relay the mass to those not inside the church.
Parishioner Veronica Carroll, who has been attending the church for around 10 years, said the congregation was a "lively bunch" and that it was a "truly international place".
Ms Carroll said: "It holds very happy memories for everybody and is a place to meet up again and remember old times.
"The church is very important for the lives of many Coventry residents."
The mass was attended by Archibishop Bernard Longley and assisted by Bishop Philip Pargeter from Birmingham.