Service marks Coventry Cathedral's 50th anniversary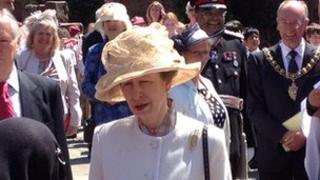 The Princess Royal was among those who attended Coventry Cathedral's 50th anniversary service.
Princess Anne represented her mother, the Queen, who was at the cathedral's consecration ceremony in 1962.
The Archbishop of Canterbury Rowan Williams took part in the service along with the Bishop of Coventry, the Right Reverend Christopher Cocksworth.
The congregation of 1,800 guests included clergy and dignitaries from all over the world.
Peace and reconciliation
Almost 300 members of the public lined the cathedral steps and the area around the ruins of the old cathedral to see the arrival of the royal party.
The service was relayed outside the cathedral and on the BBC Big Screen in Millennium Place.
The service was the first of a number of events the Archbishop of Canterbury will attend over the weekend in Coventry and Warwickshire.
The previous St Michael's Cathedral was bombed during the Coventry Blitz on 14 November 1940.
The new Coventry Cathedral was designed by Sir Basil Spence and stands alongside the ruins of the old cathedral as a symbol of peace and reconciliation.
Those who who helped to build the cathedral and were there for the consecration were also at the service.
Mike Smith, who was a 10-year-old chorister at the consecration, said ahead of the service: "It's extremely moving - I'm meeting up with 14 people that I haven't met for well over 40 years."
The 30th anniversary of the sinking of HMS Coventry was also remembered through the presence of Lieutenant Commander Timothy Leeder, Principal Warfare Officer of HMS Diamond, HMS Coventry's sister ship.
Pupils from Blue Coat Church of England school in Coventry also performed.
To celebrate the cathedral's anniversary, BBC Coventry & Warwickshire has recorded 50 stories about the cathedral from those who have played a part in its history.
The 50 Stories for 50 Years have been shared on the radio and on the station's Facebook , Twitter and AudioBoo pages.