Coventry Cathedral remembered with 50 Stories for 50 Years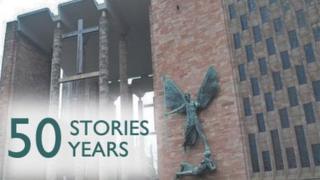 On 25 May, Coventry Cathedral will be marking 50 years since its consecration.
To celebrate the occasion, BBC Coventry & Warwickshire has recorded 50 stories from those who have played a part in its history to date.
The 50 Stories for 50 Years will be shared on radio, but also on the station's Facebook , Twitter and Audioboo pages.
Memories are from those who built the cathedral, worked there, or visited it.
Over the years, the cathedral has been visited by royalty, a member of The Beatles, and has hosted numerous special events.
It has also been the setting for funerals of respected members of Coventry and Warwickshire society, including soldiers killed in action.
BBC Coventry & Warwickshire has spoken with craftsmen who built the altar, those who remember seeing the spire being put into place, and choir boys who were at the consecration.
From researching the history of the cathedral, BBC Coventry & Warwickshire has learnt about the different stages of the how cathedral was built and how it could have been constructed on the site of the old cathedral ruins.
Listen to the stories from 13-25 May on BBC Coventry & Warwickshire on 94.8 and 103.7FM, DAB and online. You will also be able to hear the stories on Facebook and Twitter.