World Shakespeare Festival opens in Stratford-upon-Avon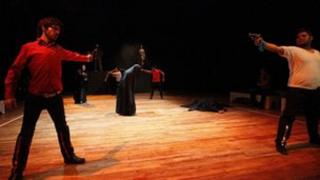 The World Shakespeare Festival has been launched in Stratford-upon-Avon, alongside the annual birthday celebrations.
The festival will be the biggest celebration of the playwright ever staged, according to the Royal Shakespeare Company (RSC).
Productions from the USA, Mexico, Russia, Iraq and Brazil are expected to be staged in Stratford-upon-Avon.
Thousands of actors are due to take part in productions across the world.
Other events taking place in Stratford-upon-Avon over this weekend include stage fighting and make up workshops, as well as storytelling sessions.
The RSC itself is also scheduled to present 12 new productions by the end of September, which it said would "reflect the rich mix of cultures within British society".
Some of its productions are also due to be taken to London to form a central role in the final stages of the 2012 Cultural Olympiad.