Polar explorer Mark Wood to ski from North Pole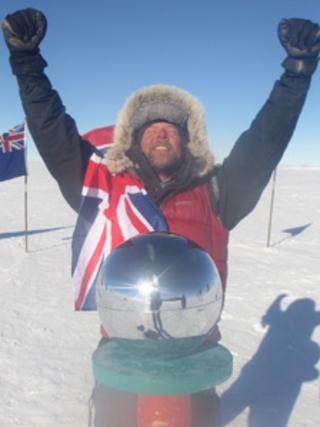 A Coventry man who hoped to become the first person to ski solo to both poles has revised his route because of the "unpredictable" nature of the Arctic.
Mark Wood, 45, has already skied 612 miles (985 km) in 50 days to reach the South Pole in January.
But instead of skiing to the North Pole from Canada later this year he will now do the expedition in reverse.
Mr Wood said his decision was based on the "fragile ice in the Canadian Arctic".
"I will be dropped off by long-range Russian helicopter into the most remote place on the planet," he said.
"Then I will be left on my own to make my way across the ocean back to the Canadian coastline.
"The flow of the drift in the ocean goes towards Canada. As opposed to working against mother nature I'll be working with her.
"The odds are more in my favour.
"The difference between Antarctica and the Arctic is that the Arctic is a moving platform so the ice is moving beneath you.
"Sometimes explorers have felt seasick on polar expeditions. It's unpredictable."
Mr Wood, who will cover about 500 miles (805km) in the second leg, took on the original challenge to raise awareness of climate change. He said he would still be the first person to ski across both poles back-to-back.
The former fireman said he hoped to be at the North Pole in the middle of March and expected to take between 40 and 45 days to reach Cape Discovery.
Rather than raising money, he is hoping to persuade individuals and businesses to cut carbon emissions.
Working with the DoNation website, Mr Wood has set a target to save 100 tonnes of carbon dioxide through pledges. About 30 tonnes have already been pledged.