Plans for Coventry city centre £300m revamp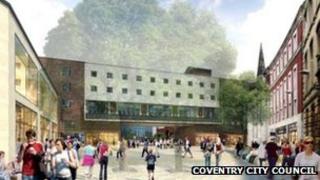 Plans for a £300m revamp of Coventry city centre, including a cinema complex, hotel and flats, have been unveiled.
The city council's proposal for the south of the city also includes a new store and car park.
The council said the plan was based on comments received from "thousands of local people" who had taken part in a consultation.
It said detailed plans would be submitted in March.
Deputy council leader George Duggins said a decision over the redevelopment was due some time in the early-autumn.
David Cockcroft, assistant director for city centre and development services, said: "This scheme can be seen as a first very important part of the jigsaw which will inevitably act as a catalyst to a much larger regeneration of the whole of the city centre," Mr Cockcroft added.
Linda Bigham, cabinet member for city development, said the plans were "firmly rooted in the 10 priorities set by local people".
"I believe that this is the beginning of one of the most exciting transformations our city has seen for 50 years," she added.
Mrs Bigham said it was important independent retailers were supported throughout the process.
She added that "some existing tenants will need to move to new premises and we'll do what we can to support them in making this happen".
The city council said it had worked in partnership with the other major landowner, Aviva, on the proposal which covered Bull Yard, Shelton Square, City Arcade, Barracks car park and Hertford Street.