Warwickshire Fire Service considers 999 plans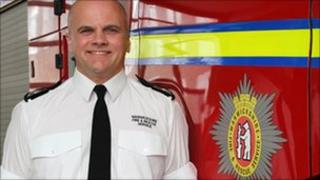 Emergency fire calls in Warwickshire could be co-ordinated from outside the county under plans being considered by its fire and rescue service.
It is one of two options to replace the aging Leamington control centre.
Assistant Chief Fire Officer Jim Onions said a partnership with Northamptonshire Fire and Rescue Service was also being looked at.
The move follows the scrapping of the national Firecontrol scheme in December 2010.
Nine regional centres were expected to replace the current network of 46 local control rooms, which answer 999 calls and deploy fire crews.
Mr Onions said: "Along with every other fire service in the country we are working towards upgrading and developing our fire control so we meet local fire service need, but also provide for national resilience as well."
'Greater funding'
Coventry is not affected by the proposals as it is covered by the West Midlands Fire Service, with control room operations based in Birmingham.
Mr Onions said Warwickshire was considering a similar set-up.
He added that a joint control room, possibly out of the county, was likely to attract greater funding and benefit from more manpower in a single place.
Under the second option, Warwickshire and Northamptonshire fire services would operate separate control rooms, but would be linked together to share 999 calls during peak periods.
"If there was a major incident, another control could buddy up and back up that control... effectively adding the resilience of that other control, Mr onions said.
He added that under the second proposal the current control room in Leamington would need to be replaced and existing technology upgraded.
Mr Onions said: "There are pros and cons for both solutions.
"I think local knowledge has its place, there's no doubt about that, but obviously the regional centre would have been based in Wolverhampton.
"We will be recommending whatever is the best solution that enables us to put fire crews on the road as best and quickly as we can."