Plans for Ricoh railway station go on display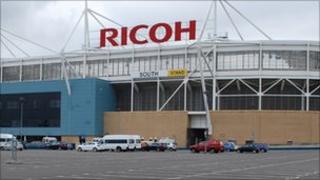 Plans for a rail service that includes a stop at the Ricoh Arena are being exhibited on a tour around Coventry and Warwickshire.
The blueprint for a multi-million pound upgraded rail link between Nuneaton and Coventry includes stations at the Ricoh Arena and Bermuda Park in Nuneaton.
This is part of a public consultation ahead of applications for new stations being submitted.
It begins at Bedworth High Street on 30 September from 8:00 till 18:00 BST.
The scheme also includes plans for more platforms to be built at Coventry station for longer six-car trains and longer platforms at Bedworth.
The exhibition will also visit Bond Gate/Church Street in Nuneaton on 1 October from 9:00 till 1800 BST, Bull Yard in Coventry on 7 October from 08:00 till 18:00 BST and Coventry Arena Shopping Park on 8 October from 09:00 till 19:00 BST.