'Coventry Ambassadors' sought for 2012 Olympics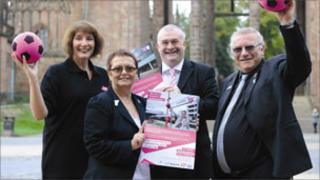 Hundreds of volunteers are being sought to act as ambassadors for Coventry to welcome visitors to the city during the 2012 Olympics.
More than 300 helpers are needed to assist those attending football matches next summer.
The Ricoh Arena, which is to be re-named the City of Coventry Stadium for the Olympics, is hosting 12 games.
A spokesperson for the scheme hoped it would "enhance Coventry's reputation as a welcoming and friendly city".
Councillor Mal Mutton, chair of Coventry City Council's cabinet advisory group for the Olympics, said: "We have every confidence that the Coventry Ambassadors scheme will prove to be a resounding success.
"The Olympics present a once-in-a-lifetime opportunity for the city to be a showcase to visitors from all over the world and we are determined that they leave Coventry with a positive, lasting memory of their visit."
Future events
Ambassadors must be over 18 years of age and will be needed at key locations across the city, but not inside the stadium, in order to help spectators safely make their way to and from the venue.
Coventry University will look after the recruitment process with applications opening on Tuesday 4 October.
David Boughey from the university is confident the scheme will help the city attract more large-scale events.
He said: "The development of high quality volunteers will be crucial in supporting future national and international events in the city.
"It will show how the scheme will demonstrate a developed volunteer infrastructure which will bode well in attracting other major events to Coventry."