Travellers on Beausale land lose appeal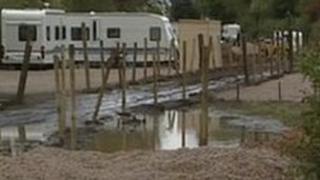 A group of travellers have lost their appeal to remain on land in Warwickshire.
The 13 families moved on to a field in Beausale, near Kenilworth, just before the May Day Bank Holiday last year.
A temporary "stop notice" was served on them after residents told police that machinery was brought on to the site.
A retrospective planning application was turned down by Warwick District Council and now a planning inspector has upheld that decision.
'Unmet need'
The council said the planning application sought permission for the change of use of the land for British Romany Gypsy families for 13 permanent pitches for mobile homes, 13 touring caravans for nomadic use only and 13 utility day rooms.
But the inspector, acting for the Secretary of State, has upheld the council's view that the development went against the plans in place for the area.
The decision follows a recent planning inquiry held in Leamington Spa.
The appeal ruling stated "the Secretary of State has concluded that the development constitutes inappropriate development".
But the ruling said the some weight should be given to "the level of local unmet need and considers that national and regional need for more permanent gypsy sites also has material weight".
It is not clear what action the council will now take.