Nuneaton housing development plans refused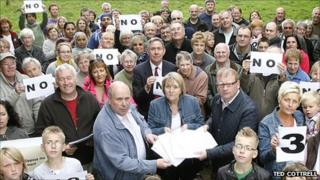 Plans for more than 300 homes to be built in a countryside location in north Warwickshire have been refused by the council.
The proposals for new homes on green space in Weddington were rejected at a planning meeting in Nuneaton.
Campaigners against the development are "relieved" despite having mixed feelings about the voting outcome.
Six councillors voted against the plans, while five voted for them at the town hall planning meeting.
About 140 people from the SWORD (Save Weddington: Oppose the Residential Development) campaign group attended the meeting on Wednesday night.
'Terrible precedent'
They are against developers building a housing estate on fields between Church Lane and the Weddington Walk.
Alan Shrubliani, the chair of SWORD, said: "We're very pleased that the vote went the right way, but we were concerned that it was so close.
"There is sufficient land elsewhere across the borough... If you start building on open fields, you set a terrible precedent and you'll end up building to the boundary and we lose that open space."
However, Mr Shrubliani is concerned the developers will appeal against the decision because of the small margin of the vote.
He added: "We're a small voluntary residents group, so we have a lot of support, but we're not funded like developers are. They have unlimited resources."
The developers, Hallam Land Management, said they had "no idea" whether they would appeal against the decision.