Justice 'achieved' for killed Lindsay Hawker, says family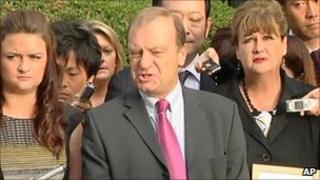 The family of a 22-year-old Leeds University graduate, who was raped, killed and buried in a bathtub filled with sand, say they are satisfied justice had been served.
Tatsuya Ichihashi has been sentenced to life in prison for raping and murdering his English teacher Lindsay Hawker, from Brandon in Warwickshire.
Miss Hawker's parents, Bill and Julia, spent their life savings and pension to fund a campaign to bring him to justice.
They made numerous appeals on TV in Japan, urging anyone who spotted him to come forward and repeatedly travelled to the country to hand out leaflets and posters to ensure the case remained in the media spotlight.
Police in Japan also offered a $100,000 reward for information leading to his capture.
Bill Hawker, the manager of a driving school, thanked the Japanese people for bringing Ichihashi to justice.
Ichihashi lured Lindsay Hawker to his apartment in Ichikawa City, near Tokyo, on 25 March, 2007, to collect payment for an English lesson she had given to him in a cafe earlier that day.
Ichihashi admitted tying her up and raping her, but claimed he had killed Miss Hawker accidentally, while trying to muffle her cries for help.
However, sentencing judge Masaya Hotta said Ichihashi had strangled Miss Hawker for at least three minutes, demonstrating a "clear premeditation to kill."
Ichihashi had fled the murder scene and went on the run for two and a half years, becoming one of Japan's most wanted criminals.
He was eventually arrested at a ferry port in Osaka in western Japan, in November 2009.
'Long wait'
After the sentencing, an emotional Mr Hawker said: "We've waited a long time for today. We've waited four and a half years to get justice for Lindsay and we have achieved that today, we are very pleased."
"Lindsay loved Japan and you have not let her down. Thank you," he added.
Ichihashi wrote a book about his time on the run called 'Until the Arrest' and pledged in January to give the proceeds to the Hawker family.
The family spurned his offer and said they wanted nothing to do with his money.
Ichihashi repeatedly prostrated himself in front of them when entering court, but each time they averted their eyes, to avoid acknowledging his deep bows, a cultural mark of respect.
The judge said he did not accept Ichihashi's claims of remorse either, because of the great lengths he went to, to avoid capture, that included performing DIY surgery to try to disguise his appearance.
Ichihashi's lawyers have indicated they will not seek to appeal the life sentence.