Funnel cloud spotted in Warwickshire village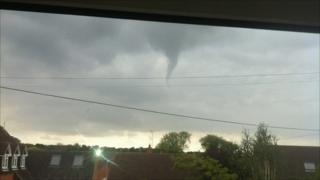 A funnel cloud, a cloud which can be mistaken for a tornado, has been spotted over Warwickshire.
Fiona Booth, aged 22, spotted it when she glanced out of an upstairs window at her home in Snitterfield on Wednesday afternoon.
"I was a bit worried by it," she said. "It was dragging down and then it stopped, and gradually it dispersed."
A similar cloud was also spotted in Bristol. A funnel cloud is not a tornado unless it reaches the ground.
The phenomenon was also spotted by a man in Leamington Spa who contacted the BBC.
Ms Booth said the cloud was around for about 10 minutes.
"The weather was quite calm, but there was a big difference in the light and dark of the sky," she said.
"I spoke later to someone who had been closer to the cloud and he said it had been very eerie."