Repairs for Baddesley Clinton after 500 years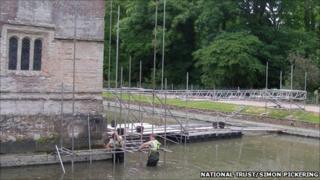 A manor house is being repaired for the first time in 500 years.
The stone front of medieval manor house Baddesley Clinton, in Warwickshire, is getting a facelift after centuries of battling all weathers.
Repairs will be made using authentic Arden Sandstone, extracted from a small quarry on the site.
The house will still be open to the public and visitors will be able to follow the work, which began in May and is expected to last for 10 weeks.
The property, which is owned by the National Trust, dates back to the 15th Century and was home to the Ferrers family for 500 years.
Conservation manager Simon Pickering said: "This is a really exciting project and visitors will be able to see the stone masons working in the house forecourt or join a stonework tour, led by our volunteers, to find out more about the work.
"Inside the house we have been protecting the library and its contents from the stone dust by sealing up the chimney and covering the furniture with dustsheets."
As well as the house, the Arden Sandstone was also used to build the parish church of St Michael's.
The stone formed more than 250 million years ago when there were tidal mud flats and fresh water streams.
The repair work has been part funded by £70,000, which was left to the National Trust by Mrs Edna Eades through the Walsall National Trust Association.