Fatal Rugby sheltered housing fire 'started for fun'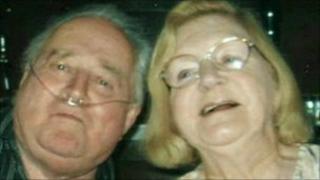 A teenager accused of killing a couple in an arson attack at a sheltered housing complex bragged he started the fire, "just for fun", a court heard.
Albert and Kath Adams, both 77, died when a fire spread from a mobility scooter to their maisonette in Rugby, Warwickshire, last February.
The boy, now aged 16, also allegedly took photos of the scene on his mobile phone, Birmingham Crown Court heard.
The defendant, who cannot be named for legal reasons, has denied manslaughter.
'Remarkably similar'
He has also denied a charge of arson with intent to endanger life and a charge of arson being reckless as to whether life would be endangered.
The youth started the mobility scooter fire with a lighter and was responsible for a "remarkably similar" arson attack in the same complex in Harold Cox Place 48 hours later, the Crown alleged.
Prosecuting Gareth Evans QC said: "Each fire started in the early hours of the morning, each fire was started with a naked flame, each fire occurred at the same location, and each fire involved the deliberate setting alight of a mobility scooter.
"Sadly, as a result of the first fire, two people died."
Mr Evans said many of the defendants' friends told police he had bragged to them about being responsible for the first fire.
The court heard that within an hour of starting the first fire at about 0200 GMT on 27 February the boy, who has learning difficulties, had confessed to friends.
A friend who saw him said the boy had seemed agitated, out of breath and as though he had been running.
Mr Evans said the defendant told the friend he had set fire to a scooter and the police were chasing him.
A police helicopter was sent to the scene of the second fire in Harold Cox Place, 48 hours later.
Mr Evans said the boy saw another friend after setting fire to the second scooter in the early hours of 1 March and said: "Can you see that helicopter? That's me that is."
Mr and Mrs Adams were rescued from their flat by firefighters but died in hospital within hours of each other on 27 February.
No-one was hurt in the second fire.
The trial continues.